Bloomberg Business
November 11, 2015
Major Oil Companies Have Half-Trillion Dollars to Fund Takeovers - Bloomberg Business
The world's six largest publicly traded oil producers have more than a half-trillion dollars in stock and cash to snap up rival explorers.
Exxon Mobil Corp. tops the list with a total of $320 billion for potential acquisitions. Chevron is next with $65 billion in cash and its own shares tucked away, followed by BP Plc with $53 billion, according to data from corporate filings compiled by Bloomberg.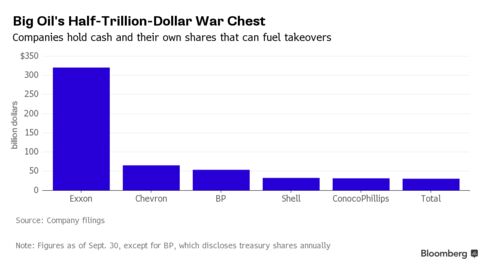 Merger speculation was running high after Anadarko Petroleum Corp. said Wednesday it withdrew an offer to buy Apache Corp. for an undisclosed amount. Apache rebuffed the unsolicited offer and wouldn't provide access to internal financial data, Anadarko said. Both companies are now takeover targets, John Kilduff, a partner at Again Capital LLC, a New York-based hedge fund, said by phone.
Royal Dutch Shell Plc has $32.4 billion available, almost all of it in cash. That said, The Hague-based company is unlikely to go hunting for large prey given plans announced in April to take over BG Group Plc for $69 billion in cash and stock.
At the bottom of the pack are ConocoPhillips with $31.5 billion and Total SA with $30.5 billion. More than 90 percent of ConocoPhillips' stockpile is in the form of shares held in its treasury. Total's arsenal is 85 percent cash.
Chevron spokesman Kurt Glaubitz declined to comment on the company's mergers and acquisitions strategy. Shell spokeswoman Natalie Mazey also declined to comment. Voice messages left for Exxon, BP, ConocoPhillips and Total weren't immediately returned.
Even with its lowest cash balance in at least a decade, Exxon still wields a mighty financial stick. The Irving, Texas-based company has $316 billion of its own shares stockpiled in the company treasury that it could use for an all-stock takeover. The world's biggest oil company by market value made its two largest acquisitions of the last 20 years with stock -- the $88 billion Mobil deal in 1999 and the $35 billion XTO transaction in 2010.